The Constitution Square (Plaza de la Constitución) is the nerve centre of the Old Town. This is the main square in the city, where big parties and celebrations take place. We could mention, for instance, the flag hoisting festivity on the 20th of January, or the celebration of Saint Thomas' day, when stalls selling chistorra (a sort of cooked sausage) are placed in several points of the city, this being the most popular one.
History of Constitution Square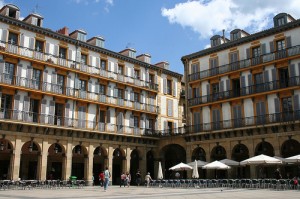 The Constitution Square or Consti, as it is known by Donosti inhabitants, was constructed in the year 1817 by architect Ugartemendia, one of the most involved in the rebuilding of San Sebastian after the devastating 1813 fire.
As soon as you step into the square, the numbers above each one of the windows in the houses facing it will capture your attention. These numbers still mark the bullring boxes that the houses formerly used to be and from which you could watch the bullfight. After the construction of a new and larger bullfighting arena in the city, the Constitution Square was not used as a bullring anymore; however, the numbers remain on each window so as not to forget part of its history.
Nowadays, some shops as well as some terraced bars may be found in the square, a suitable place to calmly enjoy a glass of wine, away from the masses that usually congregate inside some of the most trendy bars in other areas of Donosti Old Town.