Igueldo mountain is one of the most significant mountains in the city. Located at one end of Ondarreta beach, it is considered to be yet another iconic spot in Donosti and one from which you will surely get a fantastic view of the city.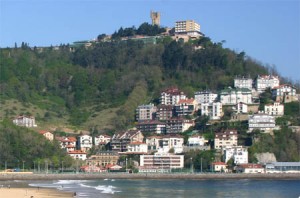 At the summit of Igueldo mountain, we find the San Sebastián theme park, an emblematic park not only because of its advanced technology but also because of its history and the peculiar attractions it has been offering for years. These attractions are not specially amazing ones, but they are full of history: the roller-coaster, feared not for its steep slides, but for the old wooden cart that takes visitors around the short tour.
Everything started in 1911, when a social club was built in this very place. Later on, in 1925, it was converted into a fashionable enclosure destined to host balls for distinguished people. It was not until a later time that it became the theme park as we know it today. What used to be the social club in the past is currently the well-known Monte Igueldo Hotel, probably the one with the best city views.
Igueldo mount funicular (railway)
This one is, undoubtedly, the most emblematic attraction, as it is not just another one in the theme park, but it involves a trip to the top of the mount riding the charismatic funicular. It was inaugurated on the 25th of august in the year 1912, which makes it the third oldest funicular in Spain. The funicular departs from the base of the mountain and takes you to the theme park. The tour barely lasts few minutes, but it is highly advisable to go up the mountain using the funicular instead of driving a car. Cars can be parked in a small parking right by the funicular stop before taking it.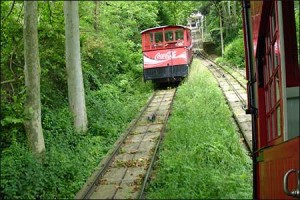 In order to get there, you must drive towards Igueldo mount and take a right turn when you see the road split leading to the mount. You may take a left turn as well, which is recommended when you wish to go to the theme park by car.
The price of the return ticket is 2,30 euros for adults and 1,70 euros for children up to seven years.
Going up the Igueldo mount in San Sebastián is an activity you can't miss out on. From the top of the mount you will get the best city views.