San Telmo museum was built in 1900. At the end of the 19th century, several exhibitions took place in San Sebastián. Those exhibitions were a resounding success and, owing to it, it was seriously considered to build a local museum. In the beginning, its tight budget did not allow it to make any big acquisitions. For that reason, the then city mayor, José Machinbarrena, asked the citizens to bring objects and donations themselves. With the aid of that popular contribution, the museum started running.
The historical, artistic and archeological museum was inaugurated on the 5th of October in 1902. Initially, it was located inside a building between Andía and Garibai streets. But this site would soon become too small for the museum and it was necessary to find a new one, concretely in Urdaneta street, around the year 1911.
Once again, in 1932, the building became too small and it was then when it was proposed to erect the San Telmo museum in the place where it is today. They decided to convert the old San Telmo Dominican monastery into it. To that purpose, the property had to be purchased by the local government and subsequently remodelled.
Recently, the San Telmo museum has been wholly restored and updated. Nevertheless, it was a great achievement that the old 16th century construction remained unmodified while they made a new building to meet needs which could not be satisfied before. It is a modern building, fully covered with holey shades through which vegetation emerges. It is believed that it will grow and cover the construction in its entirety, so the museum and the Urgull mount will merge in a more natural way.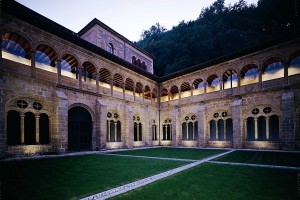 The museum offers several permanent exhitibions: History of the place, Challenges of our society, Traces of memory, Modernity awakening and Historical collection of art. Additionally, it also hosts temporary exhibits which vary over the course of time.
Inside the new building, we can find a public library as well as a trendy bar, managed by Grupo Bokado, which blends into the library. The bar has a kind of cultural and gastronomic laboratory where diverse cooking workshops and culinary events are held.
You will find more info at www.santelmomuseoa.com