Out of the three main beaches in San Sebastián, La Concha beach is the best-known among them. It is famous not only in Spain but also in many places all over the globe, since it has been frequently featured in travel magazines as one of the best urban beaches in the world.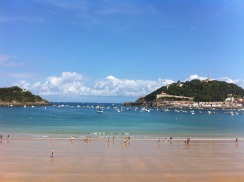 In the heart of San Sebastian
Its perfectly harmonius integration in the city centre turns the beach into a special environment. Next to it, we can find the town hall, the most important avenue in San Sebastián or the Old Town of Donosti itself; so its position and integration in the city, as we have already said, is perfect. The beach is approximately 5 metres below ground level, something that is delimited by the La Concha Promenade, a place always crowded on sunny weekends.
In the middle of La Concha bay we find Santa Clara island, an islet considered a symbol of the city that, together with the Igueldo and Urgull mounts, make up an unrivalled setting which usually appears in travel postcards.
La Concha beach is 1350 metres long and about 40 metres wide, depending on the tide. The beach occupies a total area of 54 square metres, that is, it is the smallest one of the three.
As it is a beach located in the very middle of the city, it could be somewhat complicated to get there by car. There are four car parks in its surroundings (Boulevard, La Concha, San Martín and Buen Pastor), which will make parking easier for us, even though, especially during the sunny weekends, they might be full.
It must also be said that the beach has lifeguards, toilets, dressing rooms, showers, sunshades rent service and open bars in the summer.