If you're planning to visit San Sebastian as a family, you may be looking for some ideas of what to do with the little ones, where to go and what to see. There are many options, but it's important to take the weather into account, as there are always more options when the sun is shining.
What to do in San Sebastian with kids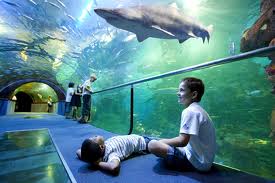 If you visit in summer, the beach is the perfect place to take them. They'll have a great time at any of the city's three beaches, but we particularly recommend La Concha Beach, as it's the most family friendly of the three.
Another activity which both kids and their parents are sure to love is a ride on the sightseeing road train, known as the Tren txu-txu, which takes you around the city. From on board the train, you'll see San Sebastian's most popular sights and tourist attractions. It's a fun option and sure to keep the kids amused.
If you want to see the sights, another option is the tour bus, a double-decker bus which visits the city's main attractions. Unlike the train, the bus allows you to hop off at any of the stops then hop back on and continue your trip later. This means that you can stop and take time to explore anything which particularly catches your attention.
The city's amusement park is located at the top of Monte Igueldo. On a nice day, it's a wonderful place to visit with the whole family. The park has a variety of small, traditional fairground rides as well as offering some of the best views in the entire city.
If the weather is not on your side, the best thing to do is to visit the aquarium. It is one of the biggest and most prestigious in all of Spain. It has recently been renovated and is perfect for children.
If the weather is bad, we also recommend a visit to the Mueso de la Ciencia, or Science Museum. It's an interesting, interactive museum, which allows children to learn as they play. The museum also has a fascinating small planetarium.
San Sebastian is a wonderful city to visit for adults and kids alike. All you need are some ideas of things to do, and a backup plan for those days when the weather is not on your side.
[box type="info"] You can see our guided
San Sebastian tours here
. [/box]