There's so much to see in San Sebastian; one day may not be long enough to fit it all in. However, if you can only spend one day in Donosti (San Sebastian in basque), let us show you around its unmissable main attractions in our one day itinerary.
What to see in San Sebastian in 1 day
Morning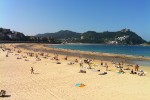 La Concha beach: As soon as you arrive in the city or leave your hotel room, make La Concha beach your first port of call. Take a stroll along the beach towards the El Antiguo neighbourhood and Ondarreta Beach. La Concha is considered to be one of the most beautiful in Spain, perhaps even the world, and takes its name from the from its conch shell shaped bay.
Miramar Palace: Still heading towards El Antiguo and Ondarreta Beach, climb the hill colourfully known by locals as 'La Cuesta del Culo', which translates roughly as 'Bum Bank'. This runs parallel to Paseo de La Concha, though at a steeper incline. Follow this street to Miramar Palace, situated on a raised platform perched on the tunnel which heads towards the old town. From the palace, take time to enjoy the spectacular views over La Concha bay.
Peine del Viento: As you reach the end of your walk along the beaches, at the foot of Monte Igueldo, you will see the 'Peine del Viento' or 'Wind Comb'. This sculpture, by Eduardo Chillida, is a symbol of San Sebastian and marks one of its most beautiful viewpoints. If the seas are choppy, you can witness the impressive spectacle of jets of water surging through holes in the ground.
Igueldo mount: Finish your morning by climbing Monte Igueldo to enjoy unbeatable views of San Sebastian. Make your ascent using the Monte Igueldo funicular railway. If driving, you can park in the car park at the entrance to the funicular, located just behind the tennis club, or in the surrounding area.
Afternoon
Old Town: Plan to reach Donostia's 'Parte Vieja', or Old Town, in time for lunch. Take the chance to explore the neighbourhood, where highlights include Plaza de la Constitucion (Constitution Square) and the two churches Iglesia de Santa María and Iglesia de San Vicente. Here, you can also enjoy some of the most famous and celebrated 'pintxos', a Basque take on tapas, in the city's main pintxo bars.
The port: San Sebastian's fishing port is small but charming. It has retained its original old world design and is rather quaint. If pintxos don't take your fancy, why not enjoy a delicious fish dish at one of the several restaurants overlooking the port, but do be aware, this option is a little pricier.
San Sebastian Aquarium: The aquarium, Spain's first ever natural science museum, remains one of the largest in the country. These days, it's the most popular museum and visitor attraction in the entire Basque Country.
Your first day in San Sebastian is drawing to a close time to head back to the hotel for a well earned rest. If you're spending another day in the city, why not take a look at our next itinerary: a weekend in San Sebastian?