Biarritz is situated in south-west France, just 50 kilometres from San Sebastian, making it an easy daytrip destination if you have a car. You can also book an organised one-day excursion from San Sebastian.
Biarritz is a city open to the sea. It became very famous in the 19th century, when French doctors attributed therapeutic properties to its beaches and recommended bathing there. Over time, Biarritz became a spa resort, with vast numbers of visitors coming to enjoy its waters.
The peak of the city's splendour was 1854, when Empress Eugenia, wife of Napoleon III had a palace built by the beach in Biarritz, which has since been converted into the Hotel du Palais. In 1901, Biarritz Casino opened, drawing more tourists and helping to make the town a popular resort. Thousands of visitors flocked here on holiday every year.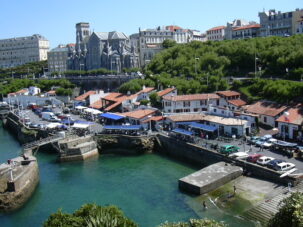 Today, this dizzying heyday has passed. However, many people still come to Biarritz every summer to enjoy its beaches. It's particularly popular with the younger generation, especially surfers, as its beaches, open to the Cantabrian sea, provide an ideal environment for surfing. Fans of the sport have made Biarritz a surfers' haven, with visitor numbers constantly increasing. Biarritz also offers a large number of shops where you can treat yourself, or simply take a stroll, stopping for refreshments at one of the city's many cafes or restaurants. It's certainly worth making the trip from San Sebastian to Biarritz for the day.
Getting to Biarritz from San Sebastian.
Take the A63 motorway, heading out of San Sebastian towards Irún-Francia. Once you're on this road, simply follow it for 50km until exit 4 (Biarritz-Parme).