Just 31 kilometers from San Sebastian, in the heart of the Urola-Costa region of Gipuzkoa, is Zumaia. It is a town of about 9,700 inhabitants that has become one of the most touristic of all the Basque Country. Because it offers endless options for all kinds of visitors, as it has mountains, beaches, an interesting architectural heritage, rich gastronomy…
Do you dare to discover what you should not miss if you visit it and even what activities to do there? Here is our humble guide.
What to see in Zumaia
Anyone who wants to visit Zumaia should know that they will have to dedicate some time to it, because there are many things to know in it. However, among the most significant we highlight the following:
1. Old town
The first and most important thing to do in this town is, without a doubt, to take a walk through its historic center, of medieval origin. It is one of the most picturesque in the area and it includes some special buildings. Without forgetting, of course, that it is formed by a network of steep, unique and narrow streets that give it an undeniable attraction. And to this also contributes the set of houses that allow to know the local architecture.
2. Parish Church of San Pedro Apostle
From the 13th century is this temple of Gothic origin that has become one of the most important of Zumaia. In this place stands out in a special way its altarpiece of Juan de Antxiea. In addition, it has the singularity that nothing more to see it gives the sensation of being in front of a fortress more than of a religious building.
It has a single nave of 30 meters long and inside the arches of the entrance of its side chapels and the Gothic image of the Virgin and Child stand out in the same way.
3. Port
The seafaring essence of this Basque town is another of its hallmarks. For this reason, we recommend that you do not miss the opportunity to know this other space, which is basically already taken by what are recreational boats.
Of course, you will also be able to admire traditional fishing boats and even typical houses. Of course, you will have the opportunity to spend as much time as you want to see them because in the port there are catering establishments to have a drink or even eat while watching the life in that one.
4. Flysch
There are many places that you should not miss in Zumaia, but, without a doubt, one of the most important is this one, of great national and international recognition. It is a geological phenomenon that is a consequence of the action of the wind and the sea on the rocks.
There is a simple route to discover it, see it and admire it, which will also give you the chance to fall in love with the breathtaking views of the area.
Another option is to take a boat trip that allows you to enjoy its beauty in all its splendor from the sea.
5. Hermitage of San Telmo
In this list of places to see in this Basque town we can not fail to include this other religious building that a few years ago became very well known throughout the country. Because the wedding scene of the famous movie Ocho apellidos vascos (2014) was filmed there.
It is located on the aforementioned flysch and Itzurun beach, is dedicated to the patron saint of sailors and dates from the sixteenth century. It is especially noteworthy for its rococo altarpiece.
6. Ubillos Palace
Of course, it goes without saying that you should also take advantage of your stay in this town to discover this palace, which dates back to the 16th century. Apparently, at first it was only a defensive tower to which later was added the body that it has today. At present it serves as the headquarters of the School of Music.
6. Geopark of the Basque Coast
As we mentioned at the beginning of the article, Zumaia is also nature. For this reason, you should not miss the opportunity to discover this natural enclave that runs between the town, Mutriku and Deba. In it you will be able to admire the aforementioned flyschs and cliffs as well as plant and animal wealth.
This park is listed as a UNESCO World Geopark.
8. Olazábal Palace
This other historic building dates back to the 17th century and is named after Juan de Olazábal, who was a member of the Inquisition and secretary to Felipe V.
We also recommend that you take the opportunity to visit the Urola River, the Fountain of San Juan, where another emblematic scene of the film Ocho apellidos vascos was filmed, and the Palace of Foronda, from the early twentieth century. Not forgetting, of course, the Convent of San José, from the 15th century.
What to do in Zumaia
Visiting all the corners mentioned in the previous section is possibly the main activity that can be done in Zumaia, but it is not the only one. So, if you have time, we recommend you to do these others:
1. Discover and enjoy its beaches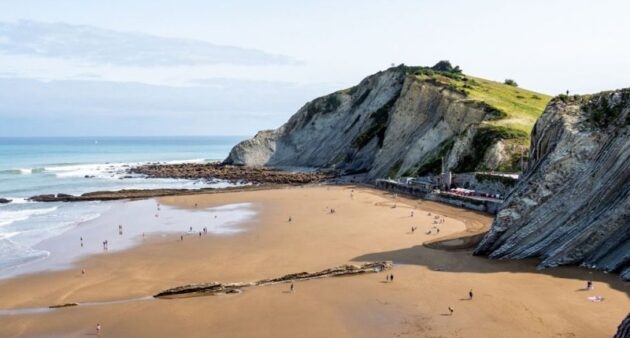 If you are a die-hard fan of the series Game of Thrones, your favorite beach will surely be Itzurun, where an important scene of this production was filmed. We are referring to the landing of Jon Snow to visit Daenerys.
In addition to seeing and admiring it, you can enjoy a quiet and relaxing day under the sun and enjoying the sea. And it has everything you need to do so, such as fine sand, a length of 300 meters and clean and calm waters.
Of course, you will also have at your disposal the beach of Aitzgorri, which is smaller and has a lot of rock, and the beach of Santiago, which is very quiet, has playgrounds for children and has a Blue Flag.
2. Take a boat ride
It goes without saying that another very interesting option is to get on a boat and take a spectacular tour along the coast of this town. Thus, you will have stunning views of it and you will understand why it is considered one of the most beautiful areas of the Basque Country.
3. Visit the lighthouse of Zumaia
If you like to walk and discover picturesque corners, do not hesitate to make the journey to the aforementioned lighthouse. It was built in the second half of the 19th century and is erected next to the aforementioned river. You can not only admire it but also have a magical view of the place.
4. Savor its gastronomy
Traveling to the Basque Country means taking advantage, unquestionably, to enjoy its rich gastronomy. For this reason, you will also have to make a hole in your agenda of activities to taste some of its goodness in one of its various restaurants. The pintxos and dishes with txangurro and txistorra (spider crab and txistorra sausage) are especially popular.
Moreover, any fish and seafood is a delight to eat in Zumaia. For all this and much more is why this town in Guipuzcoa is a perfect destination for any getaway.
As you can see, Zumaia is, together with Orio, Zarautz and Hondarribia, must-see excursions from San Sebastian or from wherever you are staying on your vacation.